Introduced nationally in 1981, Backwoods Russian Cream cigars' unique structure and look -"WILD & MILD" as it is called, with a frayed end, tapered body and unfinished head, presents a classic, aromatic smoking experience . Available in many different varieties, their unique style, taste, and package has made Backwoods the number one selling all-natural cigar in the world.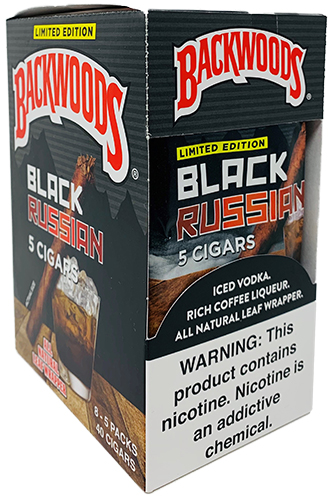 The Backwoods brand is an American legacy. Produced in the 1970s, it became a prime representation of the Wild West and today, the Russian Cream Cigars from the Backwoods brand, is considered a cigar for smokers who enjoy quality and an affordable smoke. Infused in the aroma of Cream and 100% Natural Tobaccos, this premium cigar retains the exciting spirit of the old west. Backwoods Russian Cream Cigars are top-quality western-style cigarillos with creamy textured notes of vanilla, custard, sweet tobacco, and dark coffee. Once lit, you will enjoy a flavor and aroma that is simply out of this world!
The Backwoods Russian Cream is a great cigarillo to have at hand whenever the craving strikes. It is extremely popular and somewhat rare which is why it is sold in limited capacity. So, if you end up liking them as much as we do, get yourself a packet or box.